VPS for CRM: key advantages and implementation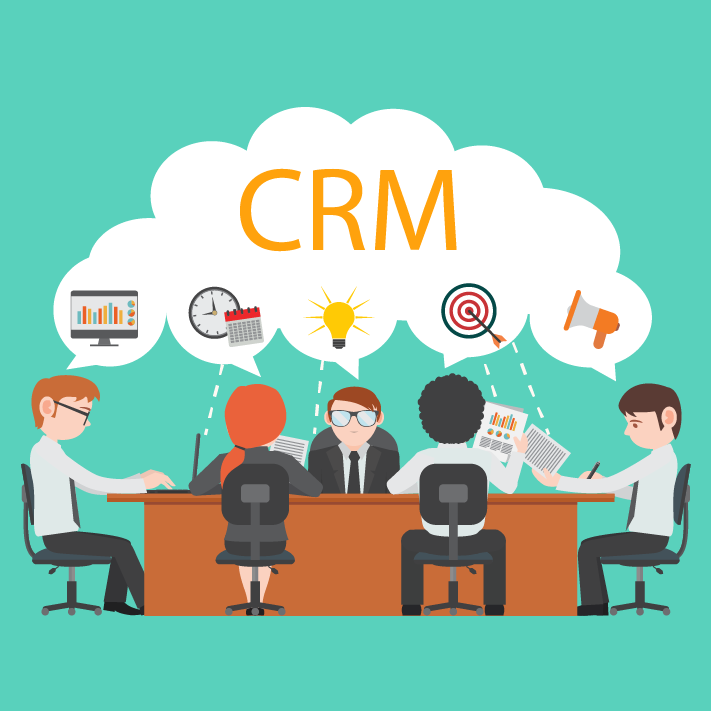 The СRM system (Customer Relationship Management) is a modern solution that enables to automatize interaction between a company and its customers. Correctly implemented CRM system allows to increase significantly the level of sales, optimize marketing, launch customer service owing to client's information saved in database and its application as necessary. Moreover, CRM enables to optimize business process, analyse work results and make the necessary adjustments.
The companies that have already implemented the CRM systems know how long, complicated and expensive this process is. One should implement everything to make every process participant happy, the system must be clockwork and not craving constantly attention. Integration with current software, training of personnel to work with new system, moving all the processes to CRM: this is not the whole list of tasks to be solved for  CRM implementation at the enterprise.
That is why those who have already passed all these stages don't want to think about changing the system, even when the situation requires. It will need too many financial, time and organizational resources. However, one elegant solution for providing access mobility, work stability and safe keeping of information exists and it concerns moving the current CRM system to dedicated server (VPS) that allows to support working stand of software and to extend its possibilities significantly.
Main advantages VPS provides for CRM
Even if you think that moving current CRM system to VPS won't give the expected effect, that's not really true. There are number of advantages you can get very quickly. Everyone knows that sales managers, distributors and other workers of this field should have the maximal level of mobility, because it is the only way to achieve acceptable results. Dedicated server and cloud technologies provide the necessary mobility as you are able to get access to CRM from everywhere. All you need in this case is to have a basic instrument set: internet access and any device with remote access (PC, laptop, tablet PC, smartphone). It allows managers to be always in touch with their customers, even if they are currently far away from the office.
VPS application for keeping CRM is a strong economy, both financial and time resources. Since the server, on which VPS is running, is serviced by cloud solution provider, the administrator who maintained the capacity of infrastructure work is free to spend his working time to perform other priority tasks. Moreover, to move current CRM to the cloud isn't a very expensive task as it needs only to deploy necessary software and to move a database to make the system ready to work.
Another essential advantage of keeping the current CRM system on VPS is no need to train the staff again. All the links in sales chain have already an experience with working in the system and continues to work in familiar environment, though its infrastructure has been completely changed. And if for the small company to train several people is a solvable task, for the big companies to re-educate the personnel is more complicated and expensive than technical nuances of new software implementation.
Why Exactly Vps?
Often chiefs or responsible persons ask the same question: why to use exactly VPS instead of other solutions? The answer is very simple and it lies in advantages of dedicated server application.
Security and safe data keeping. You don't need to worry about the power failures and equipment breakdowns. The personnel of cloud provider will look after the work stability. In emergency situations it is possible to restore the necessary data as quickly as possible that enables to avoid the long downtimes. However, it concerns only the professional companies that provide cloud services. Otherwise your data may be at risk.
Implementation speed. The server is provided very fast and it is immediately ready-to-work. Software installation, database connection won't take too much time, after that your CRM system is ready for familiar work.
Scalability. You control the server configuration by your own, that is why you are able to change CRM work options on the fly. All the functions without limitations are available for the administrator, including the distribution of access for the individual staff members and groups, the expansion if necessary, advanced option configuration.
Simplicity of migration. Since all the data is available for the customer and access doesn't require any approval from provider it allows to deploy software on a local server instead of cloud one very quickly, if necessary.
As you can see moving on VPS for CRM application is not a revolution that requires considerable efforts, nerves, finances and man-hours to run the software function again. It is an evolutionary development as you just make your CRM more flexible, more mobile and scalable without changing its functions, interfaces and working environment. In this way, at the lowest costs you can lead the work of your company on a new level that will efficiently impact the sales, customer loyalty and eventually increase your profit. VPS is a wise choice for your organisation regardless of its sizes and volumes of realizations.
You should only remember that the advantages of VPS for CRM that are first of all reliability, safety keeping of data, continuous access 24/7 and quality technical support you get only if choosing a reliable and verified provider. In this case the effect of moving to cloud technologies will be felt as soon as possible. Get interested? Read the feedbacks of those users who have moved to the cloud solutions and choose the most appropriate configuration for your tasks.