10 Benefits of Cloud VPS Hosting That You Should Know
Over the past several years the popularity of virtual private servers (VPS) has significantly increased. Many of present-day organizations understand why it makes sense to choose VPS for hosting their website or application. They would tell you some advantages of virtual private servers compared with shared web hosting, but not all of them know modern technologies provide even better solution, which name is Cloud VPS hosting. To know what is Cloud VPS hosting and why it gives its customers the edge over usual types of hosting, please see our article below. Enjoy your reading and make the right choices!
Shared hosting, VPS, Cloud and VPS Cloud. What is the difference?
To understand benefits of Cloud VPS hosting, you should firstly know what way it differs from other options. So, shared hosting is like a living in a complex apartment. It means all the residents live in the same place and must share all available resources with everyone. In shared hosting the host is selling you a part of a server and all the resources are common, so your website's uptime can be impacted by other websites located on the same server. In case of VPS you still share a server with other customers, but you also get a guaranteed amount of RAM and CMU limits that are dedicated only for your account. Cloud hosting enables unlimited numbers of machines to act as one system, so you can achieve the highest level of website performance. In addition it allows scaling resources you need and pay only for those you use.
Taking into account the information above, it is easy to guess VPS Cloud hosting stands for VPS that is taken to a cloud. The advantages of Cloud VPS server combine benefits of both VPS and Cloud hosting and VPS Cloud hosting is the best option especially when you are running online business. High load sites work fast even while getting a huge amount of traffic, but let us cover each benefit in its turn.
1. Dedicated Resources

Each Cloud VPS like a dedicated server contains its own recourses such as CPU, RAM etc, so it guarantees you that customers of the cloud will have absolutely no influence on your website.

2. Affordability

VPS Cloud hosting is not only reliable option, but also a low-cost one. Most providers will let you choose exactly resources you want. No matter whether you need a more powerful server only for an hour or want to increase your hard disk space for a day, you will pay only for resources you use and all of them will be accurately figured out by a system.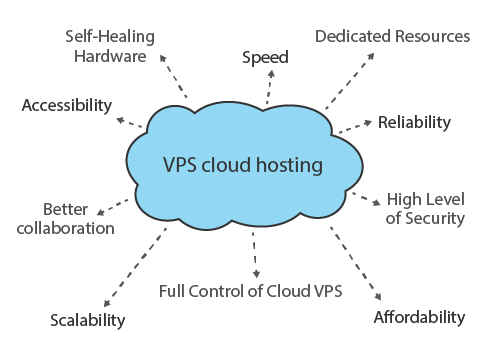 3. Scalability

Cloud VPS enables to change or adjust the options or setting to make your website more attractive for visitors. You can easily add more storage to your VPS, enlarge allowable RAM or scale your CPU performance and no downtime will occur. There is no need to migrate your website.
4. Accessibility

Having VPS Cloud hosting provides an important advantage of accessibility. You can have an access to your data and service anytime from any corner of the planet (of course, there must be an Internet connection).
5. Self-Healing Hardware

Another good reason to buy Cloud VPS is a self-healing hardware. In case you have some troubles with hardware you will not lose your time and revenue. Unlike shared hosting Cloud VPS will be automatically moved to another node if one of them fails.

6. Reliability

No need to worry about your data. VPS securely stores all your files on several hard drivers, so having problem with one of your machines doesn't mean your data will be lost. In that matter all your files can be easily restored.
7. High Level of Security

Compared to a shared hosting VPS Cloud is more secure as it has isolated or dedicated RAM, CPU etc. Moreover, your data is also protected from malicious software and hackers' attacks as this option includes an in-built multi-tiered security mechanism.
8. Full Control of Cloud VPS

This type of server gives you a freedom of what you want to place on your Cloud VPS. As having root access you are able to install your operating system and control panel. There are no limits, so install as many programs and applications as you want!
9. Speed

The most annoying thing online visitors can meet is a slow website. The users don't like to wait, but with Cloud VPS be sure your competitors won't get your customers! You site will run quickly because of so many resources contained in this option and as it was written above you can also get additional resources any time you want.
10. Better collaboration

The whole data of yours is located in one place on the cloud. It makes easier to collaborate with the members of your team while working on a project or a separate document.
There are many VPS hosting providers, but nowadays many businesses decide to choose a linux VPS provider. The simplicity, performance, reliability and an affordable price of linux Cloud VPS attract many customers. So, if you want to get an efficient and flexible hosting service you are in the right place. See our TuchaCloud offers and choose the best one to meet your needs!