Hosting Types: Advantages and Disadvantages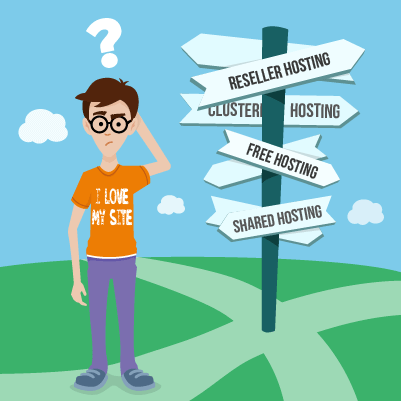 Everybody hears a lot about hosting nowadays. There are many different types and kinds of hosting and services based on hosting. That all exist for particular requirements, needs, tasks, goals. There are a lot of articles about it with theoretical and practical advice, with requirements and abilities, with technical details. And it requires a lot of time to understand the differences and make a decision about type of hosting you need. As a rule, it takes a lot of time for the customer to make a full-featured hosting comparison or web hosting comparison. We wish you save the time.
Let's start and analyze this issue.

What is a hosting?
Hosting is a service, which provide the computer performance and disk storage for customer's needs with internet access. It's only low layer. We are clever and need additional features. For example, we want to storage some data (backups, documents, photos) or have own remote server or have own site which work 24*7. Then we want to optimize our outcomes – we need any share resources or clouds. If we think about own security – we need a separate or private server. In additional we want special products which will be appropriate for us.
As a result, we have next types or classification of Internet hosting services:
Full-featured hosting – is a hosting service, which involves leasing out a portion or complete web server to the customer.
Web hosting – hosting that allows anybody to make their website accessible via the Internet (publish a website online).
Application-specific web hosting – service, which provides some resources with features on a particular platform.
Hosting by content format – like videos, music, images, documents.
Other types of hosting
Types of full-featured hosting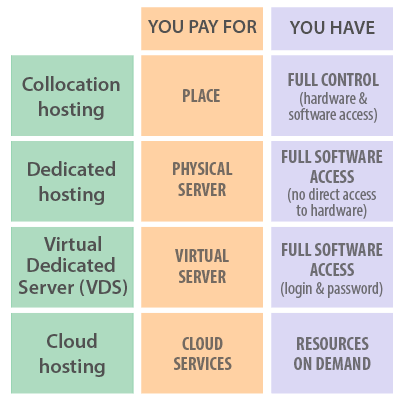 Collocation hosting (collocation center, collocated hosting) – when you place your own real server in the special data center. You pay only rent for a place in the collection center. You have full control of the server: hardware, operation system, software.

Dedicated hosting – you lease an entire physical server not shared with anyone else in the special data center. You pay the rent for the server. You can't change hardware by yourself, but you have full access and can choose the operation system on the server.

Virtual Dedicated Server, VDS or Virtual Private Server (VPS hosting) – you receive a virtual server. You pay the rent for virtual center. You have the login and password (for example: Windows - Administrator; Linux, FreeBSD - root).

Cloud hosting – you receive reliable and scalable hosting based on clustered load-balanced servers. You have an enormous possibility for your choice. There are a lot of approaches among any cloud services for your needs.

Service models:

Software as a service (SaaS): CRM, E-mail, virtual desktop, communication, games;
Platform as a service (PaaS): execution runtime, database, web server, development tools;
Infrastructure as a service (IaaS): virtual machines, servers, storage, load balancers.

Deployment models:
We offer you a lot of kinds VPS servers, which you are able to choose.
Web hosting types
If you want to publish your website online, you need a Web host. The Web host stores all pages of your website and makes them available to users, which computers connected to the Internet. There are a lot of different web hosting types such as: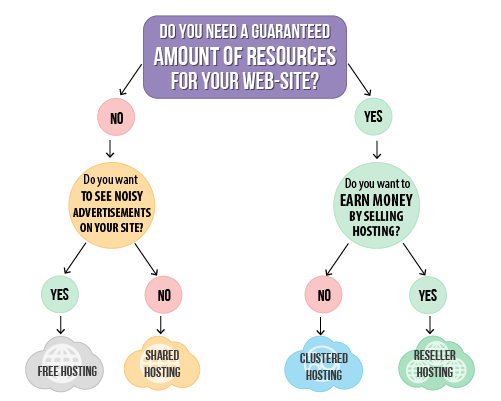 Free hosting – you can take some places for your site with limited services and very often supported by advertisements. It is suitable for small sites for your fun. As a rule, if you want more services, you would have to buy it on that "free hosting". If you don't want to know how websites work and you don't worry about noisy advertisements on your site – this for you.

Shared hosting (virtual hosting) – you receive this type for small site which isn't required in big computing and speed storage. You can understand you share all resources with other customers like you.

Clustered hosting – it is a more professional choice than free and shared hosting which required from you special knowledge and responsibilities.

Reseller hosting – it is good variant if you want to earn money by selling hosting or providing and support websites under the one control panel. It's a good choice if you are a webmaster.

We offer you a lot of types of web hosting, which you are able to choose one on our different web hosting server types.
Application-specific web hosting
If you have a lot of smart, clever, interesting ideas, thoughts, own special opinions, unbelievable viewpoints, you should look up among these types web hosting.
Blog (comments);
Guild hosting;
Wiki farms hosting;
Application hosting;
Social network;
Hosting by content format
You should make a choice among these types, if you have a plenty of any materials and you have the next goals: you need to store specific types of files or information, you want share your data, you think how to save your information (as backup).
Other types of hosting

These types for you if you are professional and well know about it.
We tried to tell you briefly about all types of hosting, but we understand that choosing the best hosting from such amount of options is difficult, even for a true professional. Anyway, it's always better to consult with a competent person who directly works in this direction. We will gladly share our experience, answer all questions about the choice of hosting, and dispel all concerns about the correctness of your choice.